Kokamket in her farm (Dryland farming made possible)
The wrinkles on her face tell a story of experience; despite the ravenous drought, she sits calmly under the shade of a tree outside her thatch-roofed hut made of sticks gazing into the grey skies and occasionally shifting her eyes to the budding shrubs. However, her calm gaze also hides a story of hardship and affliction; over the last eleven months, she has watched all her cattle die of hunger and thirst while most of her sheep, goats and chicken have also died. Her official name is Chepokateko Loupon but everyone in her village, Kadokoi, fondly calls her KoKamket (meaning grandmother to Kamket). "In my 73 years I have experienced a number of harsh droughts but this has been one of the most severe", says KoKamket. She lives with her husband of over forty years and all her ten children are grown, married and live far from her village as they are pastoralists and keep wandering in search of food and pasture. This has, ironically, given KoKamket and her husband the opportunity to bond even tighter than in their youth as they have been each other's only companion for the last few years, "It is just the two of us now so we take care of each other. My husband goes around our village and the surrounding villages to do odd jobs then he brings home the little money he is paid which he gives me to go to the market on Fridays (market days) to buy food because there aren't any odd jobs here that a woman can be given to do", she says.
KoKamket says that before the drought, she and her husband were self-sufficient since they had more than 30 cows and 60 goats which they depended on for their livelihood. However, the drought which hit the area from November 2016 saw all her cattle and most of her goats die, as she said, "We had cows which we depended on for our daily bread as we would milk them and eat with ugali every day. The drought hit us very hard and we could only watch helplessly as they fell and died, one by one, until we were left with nothing." They resorted to eating wild fruits and traditional bitter herbs as they waited for the rains in vain, but she says that for her, the emergency response project was "another form of much-needed rain" as it greatly alleviated the effects of drought by providing them with cash to meet their most essential needs. As she displays the food she is planning to cook for supper that day, she says that "the project provided us with the cash to buy food. I even used the money to buy a sufuria (cooking pot) as all the ones I had before were leaking and worn out but I could not buy a new one as I neither had the cash to buy one nor even the food to cook in it." She further adds that, together with her husband, the cash from the project ensures that they have at least two decent meals a day unlike before when they would go for more than three days without a meal and even without water as the nearby water pans had all dried up. Although she appears physically thin and her clothes fit very loosely, KoKamket says that she is actually much stronger than she has been in one year as she is now eating a balanced diet daily.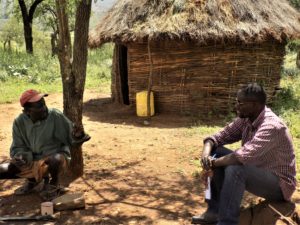 Lomusikiang, KoKamket's husband, explaining how the CFW   money has helped them
After the community participated in fencing the community farm in Kadokoi, KoKamket and her husband decided to use part of the money they got from the emergency response project to buy seeds which they are currently planting in their allocated piece of land in the farm. The two have formed a very synergetic tag team as the husband does the rigorous clearing and cultivation of land while KoKamket does the less physically demanding task of planting and watering. They say that they have resorted to crop farming instead of pastoralism as they have realized that crop farming is not only sustainable but also helps them to settle in one place rather than live like wanderers as they have done for more than sixty years. She urges the government and other agencies to come and train them on farming as they are beginner farmers and therefore have very limited knowledge on farming, particularly on dryland farming as the whole area is semi-arid and she says that some of those who tried before suffered huge crop losses. However, she says that they have decided to be trailblazers and start off on their own as they wait for the aid on training and purchasing of seeds and other farm inputs which will go a long way in building their resilience to drought. "We are very grateful for this project as it has not only fed us right now but also helped us to prepare for the future; we are hopeful that the seeds we are planting will feed us in the coming seasons", KoKamket says as she smiles hopefully.
Written by Michael Gichumbi, the Emergency Response & Disaster Risk Reduction Officer at Farming Systems Kenya (FSK), the local implementing partner of CWS Africa and ACT Alliance